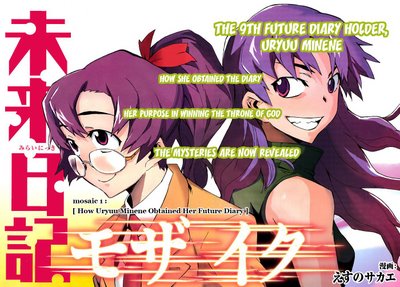 Future Diary: Mosaic is a spin-off manga of the Future Diary series. It features Minene Uryu as the main character and includes five chapters, each of them focusing on several arcs of the story under Minene's point of view before and after she got her future diary. This manga is canon to the original series.
Ad blocker interference detected!
Wikia is a free-to-use site that makes money from advertising. We have a modified experience for viewers using ad blockers

Wikia is not accessible if you've made further modifications. Remove the custom ad blocker rule(s) and the page will load as expected.