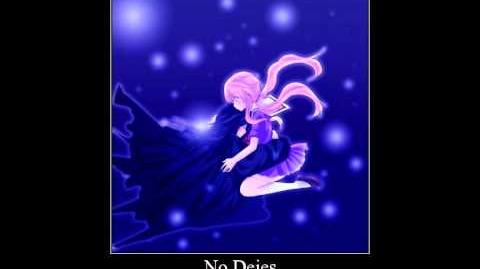 Happy End 
is the ending theme for the OVA. It is sung by Faylan in Japanese.
Full Version
Edit
Lyrics [Full song]
Edit
Kanji
思えば君の 何気ない言葉が
この心支えて 強さをくれたね
無くしたモノに 責めてた僕を
確かな決意で 導いてた
'そばにいるよ'囁いて
愛しさを知った
美しい日々 幾度願い
拭った手に 咲く希望
離さないで 時間を越えて
本当の君と生きてく
愛してる 愛してる 愛されてく…
いつかは覚める 悪夢に怯えて
読めない明日の声 教えてくれたね
上書きされた 記憶の中で
誰かを傷つけ 疑ってた
そう君への想いさえ
分からないほどに
煌めく日々 幾度願い
過去は今を 照らしてく
聞こえてるよ やっと言える
遠くても 君を感じて
愛してる 愛してる 愛していたい
悲劇の雨は 僕等を試し
止まず降り注ぐ
それでもまた 信じてくよ
その先の 扉を開いて
美しい日々 幾度願い
拭った手に 咲く希望
始まるのさ 新たな未来
二人なら 歩んでいける
愛してる 愛してる 愛されてく…
別れから 巡り逢う HAPPY END
Romaji
Omoe ba kimi no nanigenai kotoba ga
kono kokoro sasaete tsuyosa wo kureta ne
nakushi ta mono ni semete ta boku o
tashika na ketsui de michibiite ta
soba ni iru yo…sasayai te
itoshi sa o shitta
utsukushii hibi ikudo negai
nuguttate ni saku kibou
hanasa nai de jikan o koete
hontō no kimi to iki te ku
aishiteru itoshi teru aisareteku…
itsuka wa sameru akumu ni obie te
yome nai ashita no koe oshie te kure ta ne
uwagaki sare ta kioku no naka de
dare ka o kizutsuke utagatte ta
sō kimi e no omoi sae
wakara nai hodo ni
kirameku hibi ikudo negai
kako wa ima o terashi te ku
kikoeteru yo yatto ieru
tōku te mo kimi o kanji te
aishiteru itoshi teru aishi te i tai
higeki no ame wa boku tō o tameshi
tome mazu furisosogu
soredemo mata shinji te ku yo
sono saki no tobira o hirai te
utsukushii hibi ikudo negai
nugutta te ni saku kibō
hajimaru no sa arata na mirai
futari nara ayunde ikeru
aishiteru itoshiteru aisarete ku…
wakare kara meguriau HAPPY END
Ad blocker interference detected!
Wikia is a free-to-use site that makes money from advertising. We have a modified experience for viewers using ad blockers

Wikia is not accessible if you've made further modifications. Remove the custom ad blocker rule(s) and the page will load as expected.