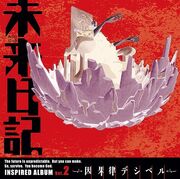 The Mirai Nikki Inspired Albums are two Music CD's containing Character Songs for each character of the series. Each character has at least one song with the exception of Yuno Gasai and Uryuu Minene who both have two(three if you count their couple character songs).
Song list
Edit
Ad blocker interference detected!
Wikia is a free-to-use site that makes money from advertising. We have a modified experience for viewers using ad blockers

Wikia is not accessible if you've made further modifications. Remove the custom ad blocker rule(s) and the page will load as expected.